Lydia Courteille is one of my favorite jewelry designers. Her pieces are magical!!
CoutureLab
has a collection of Courteille's rings for sale: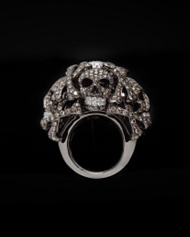 (images via CoutureLab) You can also find exquisite examples of Courteille's jewelry for sale at Alchemist in Miami Beach.
Susan Tabak visits Lydia Courteille's Shop in Paris on the rue Saint Honore
The artist Natalie Shau shares this magic and her paintings enhance and complement the beauty of the jewelry-theirs is a stunning collaboration. The following paintings are from Natalie Shau's
website
and can also be seen on Lydia Courteille's
website
These illustrations were also used in an advertising campaign for Courteille's jewelry published in French VOGUE.
Here is another example of Shau's work:
(images via natalie shau)
She is available for freelance, please see her website for contact information